Enhanced dashboards in the CppDepend UI, Visual Studio and generated reports now offer technical debt estimates, quality gates, rules, and issue data. Progression indicators since the baseline are displayed using red and green colors to highlight improvements or regressions. Clicking on any value generates a query, providing a detailed view of corresponding data such as code elements, debt estimations, quality gates, rules, or issues, allowing for a comprehensive understanding of your C and C++ codebases.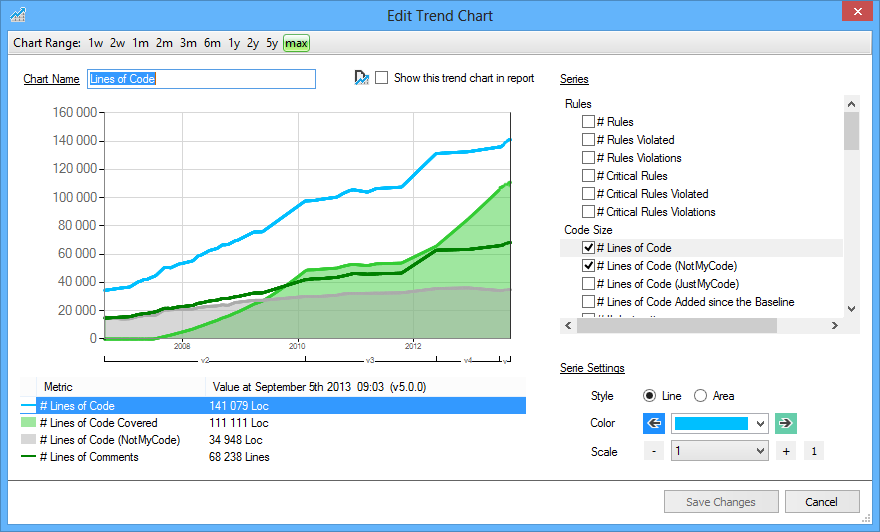 CppDepend's dashboard showcases trend charts that offer valuable insights into your C and C++ codebases. By default, these charts display:
Lines of Code growth
Number of Code Rules Violated and count of Code Rules Violations
Test-driven Code Coverage
Maximum and Average values for key Code Quality Metrics
Third-Party Usage trends
These visualizations enable a deeper understanding of your code's evolution and quality over time.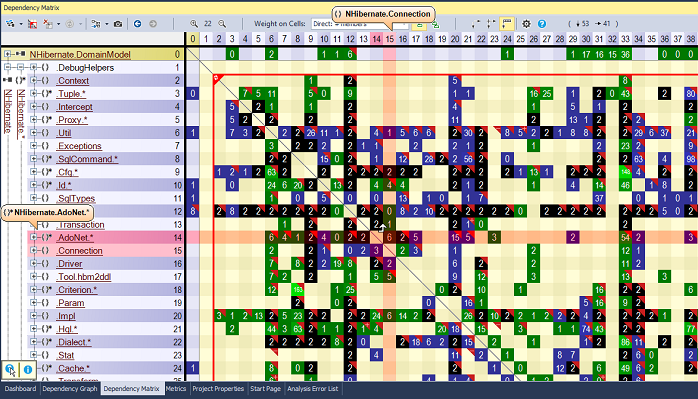 CppDepend's Dependency Structure Matrix (DSM) offers a plethora of exploration options, including the ability to:
Drill down into dependencies by opening parent columns/rows and expanding cells,
Handle both squared symmetric DSM and rectangular non-symmetric DSM,
Bind rows and columns for a constantly squared symmetric matrix,
Utilize the Indirect Usage option, where cells display both direct and indirect usage,
Include third-party code elements in rows.
These robust features enable efficient and insightful analysis of dependencies in C and C++ codebases.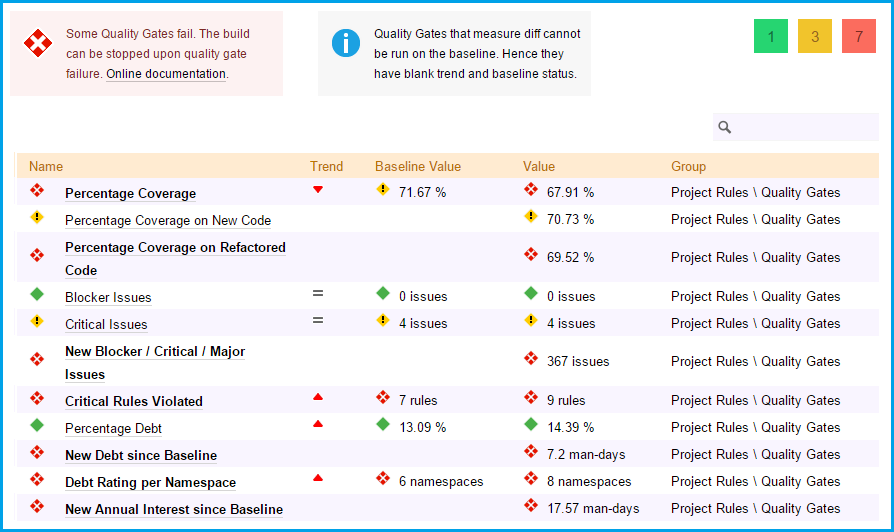 In software development, a Quality Gate serves as a checkpoint that ensures critical code quality standards are met before releasing or committing to source control. It acts as a PASS/FAIL criterion for software quality.
CppDepend provides over a dozen default Quality Gates that evaluate factors such as technical debt, code coverage, and issue severity. Quality Gate status is indicated using distinct red/yellow/green lozenge icons, denoting fail, warning, or pass, respectively.
Using these Quality Gates, developers can ensure that their C and C++ codebases adhere to high standards and maintain optimal quality.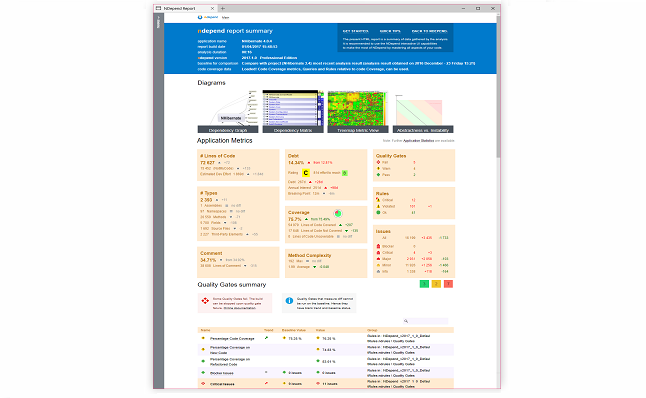 With CppDepend's powerful command-line tool, CppDependConsole, you can analyze your C and C++ projects' source code and generate detailed reports on their development status. Reports can be customized to display specific sections, and users can provide their own XSL sheet for complete customization.
Moreover, developers can build their own set of CQLinq constraints that are checked during each analysis. The report will issue a warning each time a constraint is violated, enabling automatic design and quality regression testing.
This feature empowers developers to maintain high standards of quality and design for their C and C++ codebases while automating the regression testing process.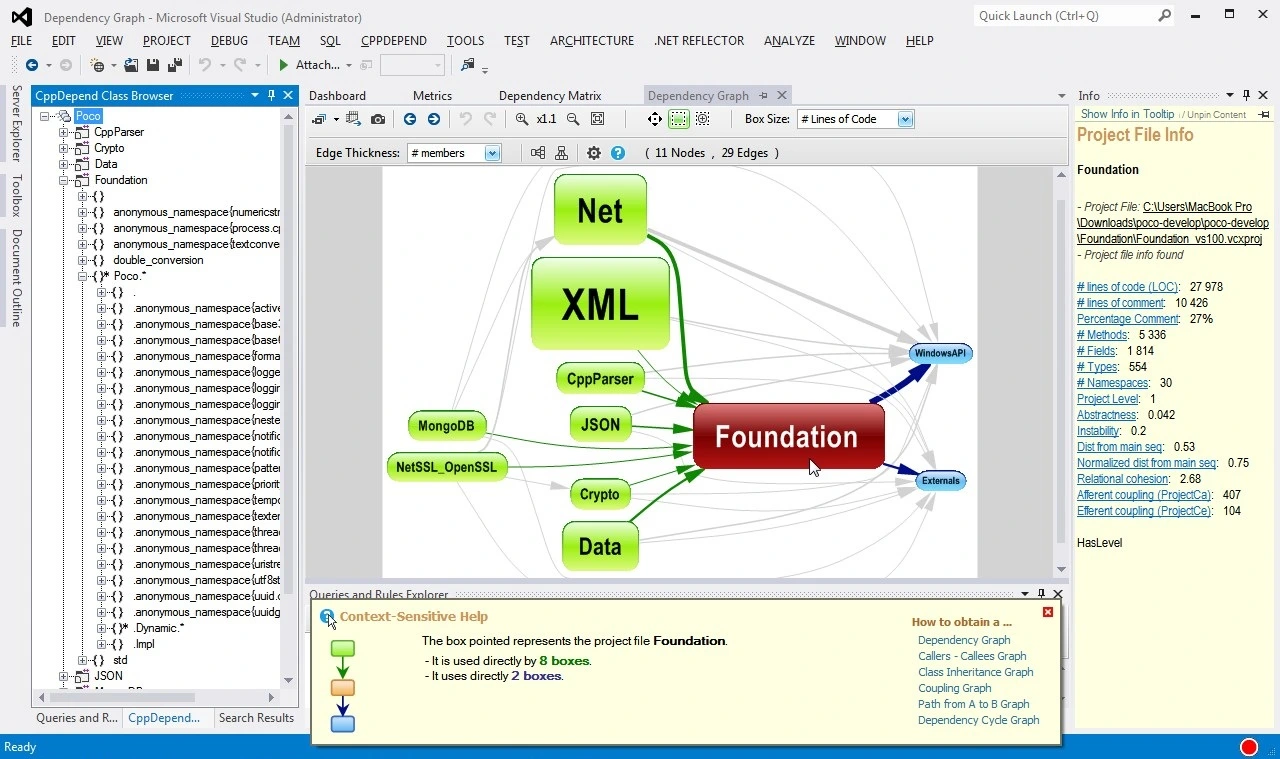 Code maintainability improves. This positively impacts the productivity of development teams.
Over time, developers get educated about rules to follow and their skills improve.
Architects can anticipate the impact of code changes. The right decisions are taken early.
Since quality is checked automatically and continuously with a strong focus on recent changes, both in Visual Studio and in the DevOps, the team builds better code.
Executives gain control over costs and risks thanks to light being shed on development facts and trends that matter most.
CppDepend is the only Visual Studio extension that is able to tell the developer that over the past hour, the code just written has introduced debt that would cost for example about 30 minutes should it have to be repaid later. Knowing this, the developer can fix the code before even committing it to the source control.
With CppDepend code rules are C# LINQ queries that can be created and customized in a matter of seconds. These queries contain C# formulas to compute accurate technical debt estimations.
The default rule-set offers over a hundred code rules that detect a wide range of code smells including entangled code, dead-code, API breaking changes and bad OOP usage.
As a static analyzer, CppDepend will likely find hundreds or even thousands of issues affecting a real-world code base. Stopping work to attempt to fix all issues for weeks would be quite unproductive.
This is why CppDepend is the only tool that offers a baseline in Visual Studio. The tool estimates the Technical Debt progress since the baseline.
Recent code smells that should be fixed before committing any code to source control are highlighted in Visual Studio. They can then be fixed even before reaching the source server.
As a consequence the Code Quality remains under control with no major upfront investment.